Helping Others Leads to Helping Ourselves 
Meet NVRC's Youth Volunteers Rob & Joey
Image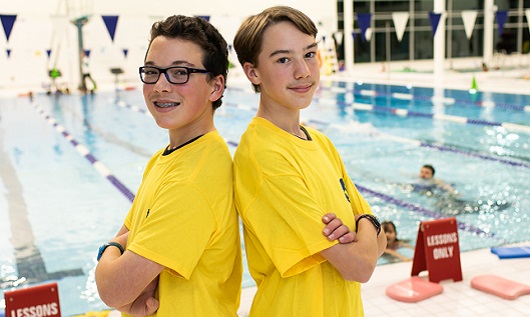 Rob and Joey's story
Rob and Joey are 14-year old twins and they attend Handsworth Secondary School. Like many twins they enjoy many of the same activities. For Rob and Joey, this includes volunteering in their community. 
Taking cues from their older brother and cousins who had volunteered for North Vancouver Recreation & Culture (NVRC), they decided to try it too. Rob says, "One of our cousins became a leader at NVRC, so we thought why not, let's do it." Joey chimes in, "I thought it would be a good way to give back to my community and meet a bunch of new people…also get volunteer hours while doing something fun." 
Last summer they volunteered with NVRC's summer day camps. Joey took on the 6-8 age group while Rob helped out with 5-6-year olds. After three weeklong camps, they had each clocked over 120 hours of volunteer time. Although nervous the first few days, they quickly found their stride and had fun helping the young kids and the camp leaders. The dynamic environment of camp challenged them to hone their communication and social skills. 
Training to be leaders
Before Rob and Joey volunteered for the summer camps, they took the NVRC Preteen Leadership Program. A registered program, it teaches youth ages 11-13 a variety of leadership skills, such as clear communication, goal setting, public speaking and volunteering. 
They found the leadership program very helpful. Joey says, "It's a great way to learn about all the things you need to know to become a volunteer…we learned a bunch of games, low-energy games, high-energy games…how to communicate with kids." Rob adds, "We were able to work on our social skills." They appreciated the program's "no judgement" atmosphere and found, by the end of the week, "we'd all become friends."
Image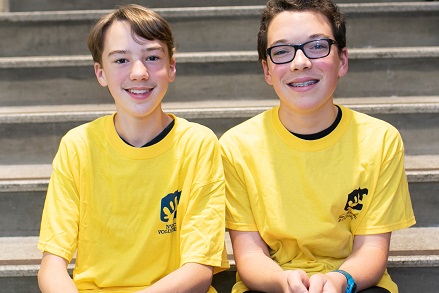 Personal growth through volunteering
Through their volunteering experience, Joey and Rob surprised themselves with newfound abilities to be organized, problem-solve in the moment, and be empathetic to the young kids. 
Joey remembers of his first day, "I wasn't exactly sure what I was doing but all the volunteers were really helpful and nice." The more seasoned volunteers helped him figure out his role and, in time, Joey developed a strong sense of empathy. "You wanna make sure the campers are safe and having a good time", he says, "you have to get to know them."
Joey says he used to be very shy. He believes volunteering has helped him overcome some of his shyness. "Volunteering is good because you get to do things that you wouldn't necessarily do…if you're shy, you (also) get to meet new people and make a bunch of new friends. And it helps you get out of your comfort zone a bit." He smiles, "That's really changed my life."
"My first day volunteering I was also really nervous," Rob admits, but the camp leaders set him at ease and put him to work. Rob learned the work ethic of being punctual and organized, arriving early before the campers did, to help with setting up for the day. Working with different aged kids taught Rob that not one size fits all. "You have to try different stuff too."
The twins believe youth volunteers help the younger kids because of their relatability: "The kids feel more comfortable with us."
Rob and Joey's mother, Alison, values the role of youth volunteering in her family: "I have seen not only my sons grow and become more mature, but I have a niece and nephew who started with NVRC as volunteers and have watched the same happen for them too.  Rob and Joey both enjoyed the preteen leadership course and I believe it gave them a foundation to have the confidence to step up and volunteer in the first place.  They always come home from their volunteer shifts tired, but often with a story of an interaction with a child which warmed their heart or made them realize the value of their contribution."  
The many benefits of volunteering
Joey and Rob both say that volunteering has given them interesting new experiences (like trips to Science World or a tour of Rogers Arena), the opportunity to meet new people and grow their skills. 
On a practical level they've been able to put their hours towards school's requirement for volunteer hours. As well, they've connected with program leaders who can become references and mentors. As Rob says, "when you get older you might need some references or you might need some help."
"Volunteering is a really good opportunity to meet more people…basically a second family," Rob says, adding, "sometimes you also get some once in a lifetime experiences – for free!"
With the skills, experience and connections they're building through volunteering, Rob and Joey are bolstering their resumes for future paid work. They both plan to keep volunteering for NVRC and hope to work as camp leaders one day. 
Speaking almost in unison, Rob and Joey provide this advice: "Everybody should volunteer." 
NVRC extends a big round of appreciative applause to Joey and Rob, and all the wonderful volunteers who commit time and care to our community!
NVRC Preteen leadership program
NVRC offers preteen leadership training for those aged 11-13 and are interested in positioning for volunteering. The program incorporates educational and practical components with the emphasis on interactive and fun learning. Topics include communication, leadership, public speaking, goal setting and volunteering. At the end of the program participants who have attended every session will receive a certificate of completion. Click here for more information. 
Volunteer opportunities at NVRC
NVRC welcomes volunteers to help with its many programs from fitness and aquatics to general recreation and special events. Volunteers must be 14 years of age or older. Discover NVRC's volunteer opportunities here.