The Transformation of Stuart Cameron
Better health, better fitness, better life!
When Stuart Cameron retired at the age of 60 he was 300 pounds and dodging his doctor who wanted to put him on medication for high blood pressure and cholesterol. As he ran out of breath walking a block to the bus, Stuart knew he needed to take action.
Sixteen months and almost 150 pounds later, he's training for a triathlon and feeling better than ever. "I'm surprised the NVRC doesn't charge me rent," he laughed, as he explained his transformation. "I spend more time there than I do at home." Stuart used to spend 35 hours a week working for the Federal Government. Now, he spends 45 hours a week working out, usually at the new Delbrook Community Centre. "It's an amazing facility, and opened at just the right time for me," he said.
Stuart's transformation started with a commitment to eat better and get active, so he joined Weight Watchers and started playing pickleball. "Once I lost the first 20 pounds I felt brave enough to don swim trunks and go to the pool," he said.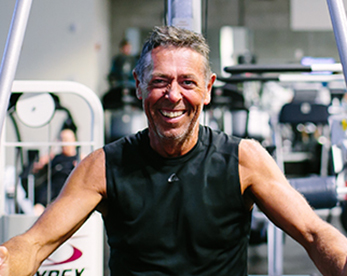 Fitness is only part of it
There was no stopping Stuart. Within six months he was running 10K, working out in the Delbrook gym and consulting with a personal trainer. Now, instead of walking to the bus, he walks, runs or rides his bike more than 20 blocks uphill from his home in Lower Lonsdale to the Community Centre on Queens. "Delbrook got me moving and I'll keep going. I feel so much better, stronger," Stuart said. "It's more than just being fit. It's about wellness. I feel content."
It was Stuart's son who convinced him to go to the gym. Stuart was reluctant because he thought the repetitiveness would be boring. Now he's one of a regular crew who show up at Delbrook most mornings by 5:30am to swim laps and go to the gym. "They've been part of my transformation and we've gotten to know each other's stories," he said. "I like being around them."
Loving life
Stuart didn't realize retirement could be so much fun. "If you'd told me when I retired that I'd be fit and training for a triathlon in a year, I would have laughed," he said. "I don't think my former colleagues would recognize me today."
"I love my life. All of it – the eating, the exercise, the community I've connected with through this new way of living. It all came together for me. Then my confidence returned."
Stuart's advice for anyone contemplating a transformation like his is to find something you love and do it. "The key is to move," he said. "Just get started."
As for his doctor, Stuart doesn't need to dodge him anymore. His blood pressure and cholesterol have improved and medication is unnecessary.