Meet NVRC Instructor Toni
Inspiring wellness through Adaptive Yoga
Image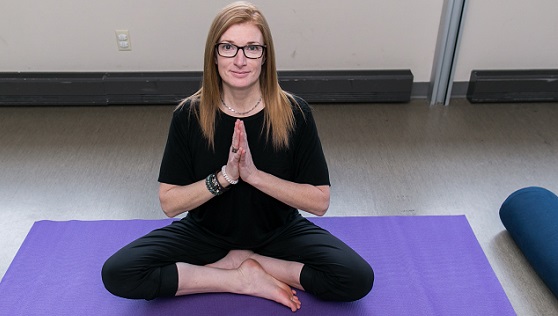 Toni van der Marel wants people to tune into their body and tune out everything else.  She uses yoga to connect with the spiritual, emotional and physical wellbeing of the people who come to her adaptive yoga classes.  The results are inspiring.
Toni's classes are designed for individuals who are often reluctant to participate due to barriers or stigma.  Her weekly Yoga Calm class at Parkgate Community Centre focuses on mental health, helping individuals cope with depression and anxiety.  Another hour-long adaptive yoga class at John Braithwaite Community Centre (previously at Mickey McDougall) supports individuals with physical challenges, including illness, debilitating pain and other life-limiting conditions.  
"I try to remove barriers for people," Toni said.  For many people, just coming to class is a major achievement.  I try to lead the classes in a way that participants feel in charge, deciding things that work for them in a way they can feel good about.  This is about empowering people to move as they wish, at their own pace.  This is their class."
It's personal
Making yoga and wellness accessible to everyone is a passion for Toni.  She has worked with people with disabilities as a professional and as a volunteer for more than eight years and has been teaching yoga for the past five years.  She takes a trauma-informed approach to ensure everyone who attends feels welcome and supported.  Toni is inspired by the diversity and commitment of the participants in her class.
"This is a personal process," she explains. "I'm here as the guide. I want them to listen to their body and emotions.  It's different for each individual."
North Vancouver Recreation & Culture has supported Toni's vision for an accessible, welcoming yoga option on the North Shore.  The Adaptive Yoga Program was first introduced at Mickey McDougall Centre in September 2018, with the offering of four free classes.  
"We wanted to create an opportunity for people to see that adaptive yoga is different, it's safe and welcoming for every body.  Many had previous negative experiences with yoga or other fitness activities, because they couldn't participate in the same way as others in the class.  We wanted to address these fears and other barriers to participation that can result in people feeling isolated and anxious, or just not welcome."
Image
A community connection
Toni encourages participants to sit in a circle, creating a sense of community and connection.  Each class starts with breathing – something everyone can do, then visualizing movement, then actual movement, for those who want to.   Some remain in chairs and wheelchairs, while others choose to move onto the floor.
Yoga Calm focuses on the relaxation response, helping participants understand and address their triggers.  Toni teaches the class positive body-based tools that they can use outside of class to help with anxiety.  She provides an opportunity for people to learn practical techniques to cope in every day life, restoring a sense of calm and choice.
Both adaptive yoga programs offer a safe and welcoming environment where participants can focus on their individual needs, while connecting with a supportive community.  Toni is proud to be part of their journey leading to improved health and wellbeing.