Meet Vern Montgomery
Overcoming life's challenges through painting and community
Image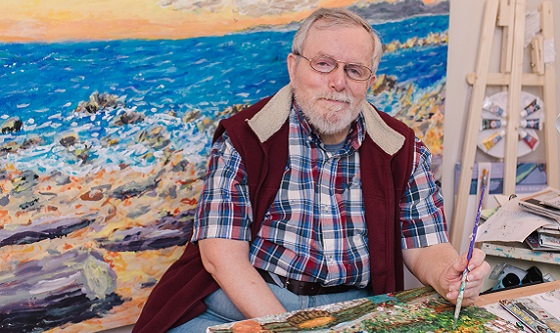 Vern Montgomery is a survivor. At age 36, a brain aneurysm and stroke left him with limited speech and virtually no use of the right side of his body.  As he recovered, Vern trained himself to paint with his left hand. Today Vern lives independently and paints every day, producing colourful canvases depicting scenes from around Vancouver and his beloved community on the North Shore. Vern has an irrepressible zest for life which he credits largely to his lifelong love for art, history and the community he lives in.
"Working with what I had" – Vern's story
Vern's survival from the brain aneurysm and stroke was considered a miracle, but it was a very difficult journey at the beginning.  Vern knew he had to work hard to regain his independence and he was determined not to feel sorry for himself. With great courage and a sense of humour, he underwent intensive speech and physio therapies. He trained his left hand to become proficient at daily tasks and be able to hold a paintbrush. 
Now 65, Vern paints left-handedly and produces a tremendous amount of art. He has displayed his creations in several venues throughout the Lower Mainland and has even taught a few art classes. Working mostly with acrylics on canvas, Vern enjoys painting local landscapes, popular sites and people. His use of bright colours lends his paintings an airy flair, much like his approach to life. As he says, "I feel absolute joy to be alive and I'd like to share that feeling with everyone."
Passion for painting
Vern paints every day. Painting offers an entry to his "creative world" where he feels inspired. He says he communicates with others through images, "Nothing brings me greater pleasure than to have someone stop and look at one of my paintings, actually taking the time to study it and then smile." 
Having earned a PhD in History, Vern is a history buff, which features in many of his paintings depicting historical scenes of places around Vancouver. 
Image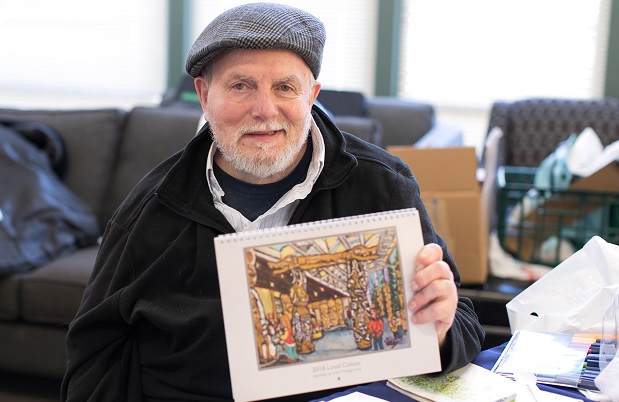 Parkgate Community Services Society used one of Vern's paintings of Gallant Avenue in Deep Cove for the cover of its 2019 Seniors Calendar. His "Lynn Valley Trolley" painting was also featured in North Vancouver Arts 2019 Calendar. Both honours touched him deeply and inspired him to compile his own 2019 calendar entitled "Vancouver Then", which showcases a dozen of Vern's colourful canvases, including scenes of Vancouver Airport, Stanley Park and the North Shore. 
Overcoming more challenges
On July 24, 2018, a fire ripped through Vern's apartment building - Lions Manor in Deep Cove, displacing 66 residents. He lost his belongings and much of his artwork. 
Vern and his family started a fundraising campaign Art to Support Fire Victims with greeting cards and tote bags featuring Vern's artwork. The bags showcase the slogan "Cove Love", which is a tribute to the amazing community spirit that drew people together in a time of need. All proceeds from the fundraiser will go to the victims of the fire. 
Vern is immensely grateful to everyone in the community who helped him after the fire. He also thanks the ongoing support of his family, especially his sister Vicky and brother in law Gregg. Since the fire, Vern has continued to paint and adapt to his temporary new home. He hopes to move back to Lions Manor after the repairs are complete, and plans to keep making art, put on more shows and sell more paintings. He says, "Artists want to share their work!"  
Parkgate's strong community
Vern has been attending the Parkgate Community Centre for over six years. Every Friday, he takes the HandyDart to Parkgate's Open Art Studio where he connects with other artists and gets feedback on his work. He also participates in the annual art sales at Parkgate. Vern appreciates the wonderful staff at the centre, saying "it feels like home". The people he met there have become friends. He cannot imagine not having this community art space, as "we all need a sense of community."
 
Vern believes painting and art helped him recover from his stroke. He encourages everyone to make art, saying everyone has their own unique imagination. He recommends those without much experience to try taking an art class. "Try it! You might really enjoy it."
To view Vern's artwork and current projects visit his website.