Staying Active and Connected at 96!
Violet's story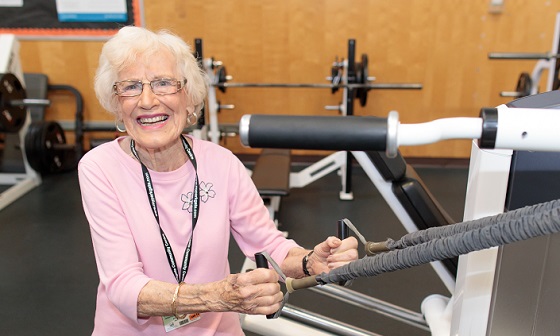 Violet Jordan, known as "Vi" to her many friends is an inspiring and very active senior. Here she shares some great stories as well as some good advice on how to live an active and happy life.
On raising a family
Vi loved being a stay at home mom and raising her two daughters in North Vancouver.  The family stayed active with swimming and playing tennis and Vi also made time to go square dancing with her husband.  She credits her very happy marriage as being the foundation of her happy life.  Now as a widow in her nineties, Vi enjoys spending time with her many grandchildren and her three great grandkids.  She says it keeps her young.
On helping others
One of Vi's strongest beliefs is to help others where and when you can.  "I am a happy person as long as I can do something to help someone," said Vi.  She learned to be kind from her own parents and she's done her best throughout her life to carry on the tradition. Her biggest helping role was taking care of her husband Jack for eight years after he had a stroke. It was a labour of love and she is happy that she was able to be there for him. 
Now she helps women in her condo by encouraging them to get out and socialize as well as exercise.  One of her neighbours was spending a lot of time alone and Vi encouraged her to go to Parkgate Community Centre with her to learn bridge and take some exercise classes.  Now her neighbour is much more active and she even went to her first social event in the condo building – Vi's 96th birthday.
On friendship and a busy social life
Friendship and socializing has played a big part in Vi's life.  As a young mom in Deep Cove, she was part of The Cinderella Club – a friendship circle that came together for tea and talks and provided support and fun times for many years.
After her husband died Vi had to rebuild her life and get more active in the community so she went to Silver Harbour Seniors Activity Centre and learned how to play bridge.  The game is now a big part of her life as she plays it every week at Parkgate as well as at bridge dates in her friends' homes. She also is part of a support group for people who have lost their spouse.  They go out every three weeks for lunch or dinner together. 
Vi loves social gatherings, so much so that she started a happy hour every Friday in her condo building's activity room.  She really developed a sense of community in her building and said, "It's healthy to be connected with others."  Many of her neighbours live alone so the connections help alleviate the feelings of loneliness and isolation that so many seniors face.
On Parkgate Community Centre
Now living in Blueridge, Vi has been going  to Parkgate Community Centre since it opened 19 years ago and believes the centre helps people stay more socially connected. "It's wonderful to be able to come here to meet people and participate in activities.  Everyone likes it here."  Vi has also made a lot of friends at the community centre.  "It's very friendly with lots of nice people and the centre gets people doing different things, using their skills and exercising," said Vi.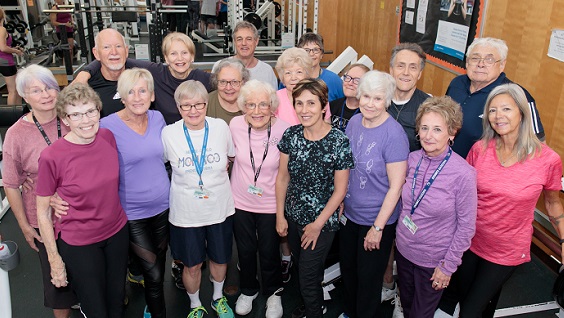 On healthy living
Vi comes from a strong family.  Her mother lived to be 91 and her younger brother is still a practicing judge in BC at the age of 88. She attributes her own  health and wellness to having had a happy marriage, lots of exercise, and being careful to eat certain 'good for you ' foods. Vi cooks lots of fresh food and prefers cooking for herself to eating pre-made meals or eating in restaurants.  
Vi has played a lot of tennis in her life and says she would still be playing if she wasn't blind in one eye. She also belonged to a West Van hiking group where they "hiked up the mountains every Monday".  She only stopped when her husband had a stroke and she needed to focus on caregiving.
As for exercise, Vi's been participating twice a week in a Circuit Training Class at Parkgate since it opened. She appreciates the social environment in the fitness centre and the helpful instruction and pointers she gets from the class instructors.   The class has kept her strong and mobile. So strong in fact, that when we went to take photos of her in the class, we watched Vi doing a number of full push-ups!  She is often asked to help her neighbours lift things like their garden pots on their balcony.  She also says her exercise gives her energy to do things in her life.  "Most of the gals my age I know have walkers or canes.  That may happen to me but I'm going to try to keep my mobility as long as I can." 
Vi also does a 15 minute work out on her own every morning in her condo.  She gets her arms and legs moving and finds it's a great way to start the day. Vi believes happiness helps keep you healthy and the reverse is also true, being healthy contributes to our sense of happiness.
Final advice
"I believe in an active way of life and helping people if you can.  And I believe in being thoughtful towards others". 
That's great advice.