Finding Joy in Art & Active Living
Meet NVRC blogger & potter Wiley Ho
Wiley Ho likes to mix things up. Pottery class, weight training, hiking, pickleball, belly motion... When it comes to NVRC programs, there's not much she hasn't tried – or wants to try.  That's probably why she's one of their most popular bloggers.
"I believe trying new things keeps us alive to the world around us," Wiley explained. "I also think curiosity is very natural.  It's how we learn. And, every time I try something new, I meet interesting people."
Wiley has written over 60 blogs for NVRC's Active Living Blog on a wide range of topics. She strives to be open to new experiences and shares those experiences through her writing, inspiring others to find joy through learning new skills and embracing imperfection.
Knowing what you like doesn't mean you should only like what you know
"We tell our kids 'you don't know until you try it'. This rule applies whether it's broccoli or belly dancing!" This year Wiley tried the Belly Motion class at John Braithwaite, shared her positive experience in a blog and inspired enough new people to try it that class enrolment has doubled! "I love connecting with readers. It's very gratifying to know that I can encourage others to try new activities with my blogs."
Wiley likes to stay active and practices her own advice that Trying New Things Is Good For You. She's tried a variety of fitness classes, including pickleball, spin and a Getting Started introduction to the gym for a personalized fitness program. "As we get older, it's really important that we exercise in a variety of ways to stay balanced and strong. The stronger we are the better we're able to enjoy the activities we love. The gym makes me more agile, which is great for my hikes in the trails." Recently, she hiked with the Trail Trekkers and discovered even more trails.
Laughter and learning
Wiley's interests extend beyond the physical.  She's been spending time at the pottery studio at the Delbrook Community Rec Centre.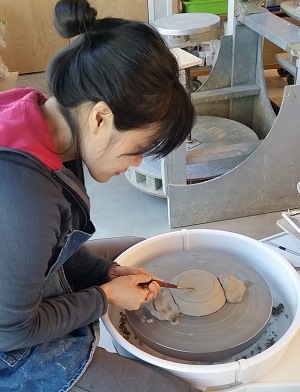 "I'm currently obsessed with clay," she said. "I love being inspired by other people's creations and learning from them. We share stories and there's a lot of laughter. I'm still a beginner and am often horrified at the stuff I make, but that's all part of the journey of Embracing Imperfection. It's very relaxing to sit at the wheel with that spinning lump of clay. It calms me and teaches me to be patient with myself."
The key to joyful living
Wiley believes that exercise, fresh air and creativity are the key ingredients to a joyful life. For her, that means trying new things and having an open mind.
"If you predetermine your enjoyment of things, then you won't have a true experience. By being open-minded to new things, I have discovered so much more about my community and myself."
Wiley's initial encounter with pickleball is a good example of taking a chance on a new activity. "It didn't sound like anything I would ever want to do," she said. "I thought it was a snack food at first and had to look it up. But the minute I walked in I loved it. The veterans showed me the ropes.  The next think I knew I was playing game after game and having a blast. All the laughter made me forget I was even exercising."
Connecting and creating
Wiley inspires others by sharing her experiences through the blogs she writes for NVRC. She finds inspiration in the people she meets when she tries new things.  Whether it's enjoying a conversation with a classmate as she creates with clay or working up a sweat playing pickleball, it's the people who make the experiences meaningful for Wiley.
"The people I've met through the NVRC programs, including NVRC staff who have provided wonderful guidance and support, have been truly inspiring," Wiley said.  "I can't think of any other place where people can connect with one another, learn new skills, all in a low-stress, affordable and welcoming space. My family and I have been enjoying NVRC services – from recreation to arts and culture – for decades. I've learned so much and I continue to discover new things."
Next, Wiley is considering the African drumming circle at Delbrook. "I'm drawn to the rhythmic thumping every time I walk by." She laughs. "I want to try it!" 
It sounds like readers have another great blog to look forward to!
To read some of Wiley's blog articles, visit our Active Living Blog.