Building Physical Literacy 
PL4U's story
Image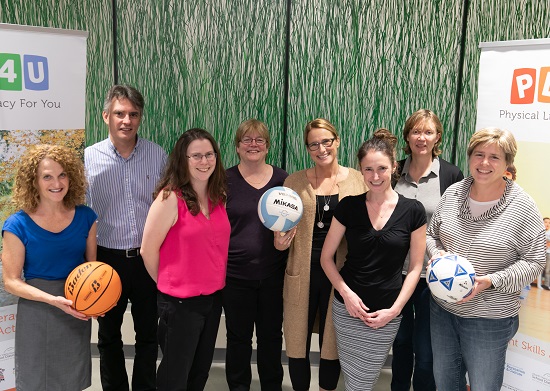 The North Shore is recognized as one of the healthiest communities in Canada.  It is also known for having high numbers of youth medicated for anxiety and depression, and low rates of youth participation in physical activities.  This unhealthy reality motivated Samantha Morrison, Design Team Programmer with NVRC, and others to take action and establish the Physical Literacy Network (PL4U).
Her passion for physical literacy started when Samantha attended the International Physical Literacy Conference in 2015 with her colleague Jo-Anne Burleigh from Vancouver Coastal Health (VCH).  Both were shocked to learn that only 17% of high school students are getting the recommended daily physical activity to achieve health benefits.  This combined with the high numbers of youth experiencing mental health concerns was a wake-up call.
"It hit me like a brick," Samantha said.  "We realized we needed to change our approach to physical activity and the story of why movement is important. Brain development and cognition, as well as physical and mental health require movement."
Movement Matters
Inspired to improve the health of youth in our community, Samantha, together with other community leaders and a grant from the RBC Learn to Play Project, established PL4U in 2017.  The idea was to build a foundation for healthy living that recognizes the connection between mind and body.
"People used to be more physical – jobs required physical labour.  Now, people sit for hours a day.  Our brains haven't developed that way," Samantha said.  "We are studying kids now to see how our brains have changed because people aren't moving the way they used to."
Many people are reluctant to participate in organized sports because they don't have the basic skills.  This becomes a bigger barrier with age.  Physical literacy builds understanding of the basics of movement before introducing organized sports. This is similar to teaching children the alphabet before trying to teach them to read, and moving to story books before tackling novels.  It's progressive and in order to move forward you need to have mastered the basics.  This is broken down into three key areas:
Body management – bending, turning, balancing, coordination
Locomotion skills – movement, jumping, running
Object manipulation skills – throwing a ball, kicking a ball, anything where you add an object into play
"The focus is on functional fitness for life," Samantha said.  "You can't learn to jump if you can't balance.  You won't feel confident joining a team if you can't run or kick a ball. We want to ensure individuals have the ability to live a healthy life doing what they want."
Image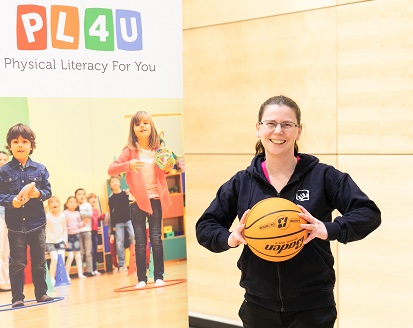 Creating Capacity
The growing number of inactive and unhealthy youth has the potential for a community health crisis.  Samantha and her colleagues knew they had to increase awareness for the importance of movement and the need for physical literacy, but they would need help.  One way PL4U has built capacity for change is by engaging those working with children and youth.
Workshops were offered, conferences organized and other tools and resources made available to support teachers, recreation instructors, coaches, parents and caregivers.  The goal is to build awareness for physical literacy, why it's important and how they can teach it to support improved community health.
A shift is already underway as the new school curriculum has embedded physical literacy as a requirement and many schools are now focusing more on movement, incorporating it into language arts, using it to help children with memorization.  
"The mind/body connection brings creativity to movement," Samantha explained.  "We need to encourage this.  Singing and skipping are great tools for retaining information, so is tossing a ball back and forth as you count with a partner."
NVRC has introduced programs that emphasize adventurous play and provide credit courses in physical literacy for staff.  And, VCH introduced a public health physical activity strategy that includes physical literacy.
Moving Forward
The benefits of building physical literacy among today's children will become evident in the future with better health outcomes and a healthier community.  PL4U has been a catalyst for change, using grants and other resources to educate hundreds of teachers, early childhood educators, parents and caregivers, who will support thousands of children to live healthier, more fulfilling lives.
This NVRC initiative is a partnership with Vancouver Coastal Health; North Vancouver Sport Council; School District 44, the North Vancouver District Parent Advisory Committee and Capilano University.  For more information, visit PL4U's website.