Induction Year: 1968
Category: Team
Biography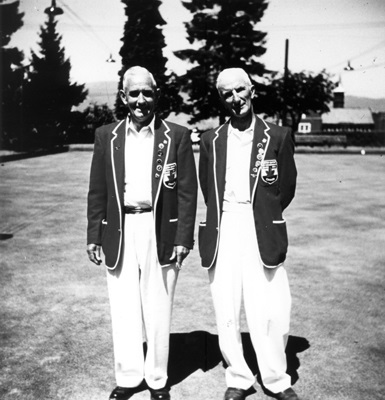 Dick Williams and Sam Gardiner were used to being on centre stage – Dick as a fine soccer player who played on a Canadian select team which produced an impressive 20-2-1 won-lost-tied record during a 1927 tour of New Zealand; and Sam during his days as an actor and stagehand in North Vancouver drama circles from the 1920s and into the 1940s. But never were they as front and centre as they were on July 30, 1954.
On that day Gardiner was pictured on the front page of The Vancouver Sun throwing the opening bowl of the lawn bowling competition during the historic British Empire and Commonwealth Games in Vancouver as the attention of the world was directed towards the city due to the much-anticipated Miracle Mile between Roger Bannister and John Landy. And the lawn bowling competition was the opening act of the Games, starting 10 hours before the official opening ceremonies. 
Gardiner, 65, and Williams, 56, had been involved with bowls for many years. Both had been president of the North Vancouver Lawn Bowling Club, the North Shore's oldest continuously operating club in any sport, going back to 1923; with Williams in leadership in 1937 and Gardiner in 1946.
However it was the team accomplishments of skip Williams and lead Gardiner as reigning Canadian pairs champions and then silver medalists during those 1954 Games – with a stellar 6-2-1 record in competition against the sport's most dominant nations at that time – which capped their bowls career. 
It was one thing for Gardiner, born in England, and Williams, from Wales, to land up in North Vancouver after emigrating to B.C. at age 20 and 15 respectively and eventually to team together much later to face their countries of origin in a sport that was conceived in the United Kingdom. It was something else again to defeat them and other world-class countries to claim second behind Northern Ireland whom they had tied 18-18.  And years later it earned them a place in the North Shore Sports Hall of Fame in its inaugural year of 1968. 
* Photo supplied North Shore Citizen, Len Corben collection