Induction Year: 1971
Sport: Archery
Category: Athlete/Builder
Biography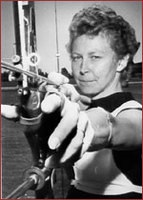 Dorothy Lidstone discovered archery when her mother gave her a bow for Christmas when she was 22. She then joined the local Greenwood Archers who used an outdoor course on Mount Seymour and later set up targets indoors in the Capilano Rod and Gun Club's building in Ambleside Park. 
By 1962, Dorothy was entering Canadian championships. By 1965 she was competing in the world championships in Sweden. Due to deaths in the family, she foregoed the 1967 Canadian championships – and therefore the worlds which were contested every second year – but eventually returned to the sport with renewed intensity and by 1969 was back on target for her best year yet. 
B.C. team trials in 1969 took place on a blustery day on the fields at Ambleside and the gusty winds provided an unpredictable competition. However, she advanced to the Canadian championships and won the target competition while setting a national freestyle record of 1,000 – 70 more than the previous record – and rung up an overall first-place total of 2,168. It was her ticket to the worlds in Valley Forge, Pennsylvania, on the outskirts of Philadelphia. 
The four-day event was contested in unbearably hot (32-34C) and humid conditions. She racked up remarkable rounds of 1,184 and 1,177 for a total of 2,361. The score surpassed the world record by 110 points but she captured top spot by a scant 10 points, showing how tough the competition was. 
It was the highlight of her career which included three provincial, four Pacific Northwest and three Canadian titles, the worlds again in 1971 in England and an appearance on the popular television show What's My Line? She qualified for the 1972 Munich Olympics but passed so that someone else could go and experience world-class competition. Later she became a master bow maker and for years her company sold them around the world.   
Dorothy was inducted into the North Shore Sports Hall of Fame (1971), Canadian Amateur Athletic Hall of Fame (1972), Canada's Sports Hall of Fame (1977) and BC Sports Hall of Fame (1981). 
* Photo supplied North Shore Citizen, Len Corben collection