Induction Year: 1968
Sport: Swimming
Category: Athlete
Biography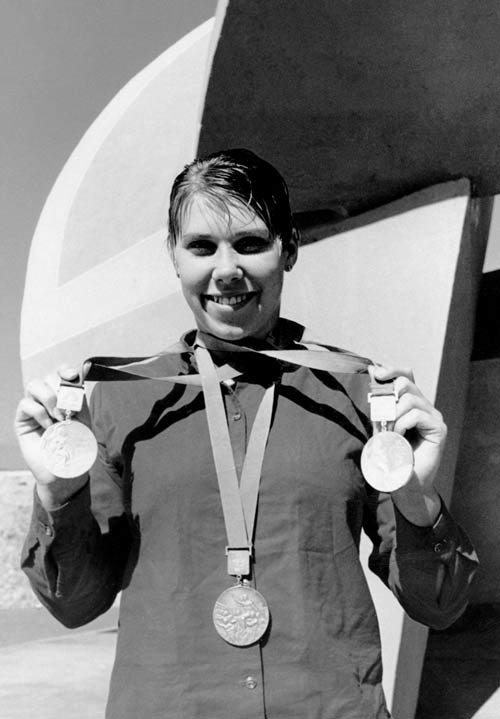 Elaine Tanner, a 5'2" dynamo from West Vancouver, earned the nickname "Mighty Mouse" for good reason. By setting some truly impressive swimming marks and earning an incredible 15 British Empire and Commonwealth Games, Pan-American Games and Olympic Games medals in the space of three years during the 1960s, she is arguably the greatest swimmer in Canadian history. 
Her versatility was noteworthy and her accomplishments praiseworthy –  if not absolutely amazing – at the 1966 British Empire and Commonwealth Games in Jamaica where she collected the biggest haul of medals for a Canadian in any sport during a single major international competition.  Her loot included four golds (440-yards freestyle relay in a world record, 220-yards butterfly in another world mark, 110-yards butterfly that included a BE&CG record in a heat, and 440-yards individual medley in another Games record) along with three silvers (440-yards medley relay, 110-yards and 220-yards backstroke).
It was another banner year in 1967 when she won two more golds in world record times at the Pan-American Games in Winnipeg (100m and 200m backstroke) plus three silvers (100m butterfly, 400m medley relay and 400m freestyle relay).
At the 1968 Mexico City Olympics she came away with two silver medals (100m and 200m backstroke) and a bronze (400m freestyle relay).
She was named as both the Canadian female and overall athlete of the year in 1966, the youngest to win the awards, and repeated the national overall award in 1967. In addition to her election to the inaugural class of the North Shore Sports Hall of Fame (1968), her name graces the list of honoured members in numerous other halls of fame: BC Sports (1969), BC Swimming (1999), Canadian Aquatics, Canadian Olympic (1971), Canada's Sports (1971) and International Aquatics (1980). She was also the recipient of the Officer Order of Canada (1969). In 2010 the Canadian Sport Advisory Council voted Elaine as one of the Top-50 greatest Canadian athletes of all time.   
* Photo supplied North Shore Citizen, Len Corben collection