Induction Year: 1968
Sport: Soccer
Category: Athlete/Builder
Biography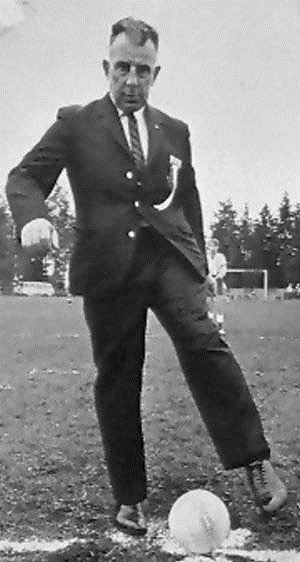 Among all of our North Shore sports icons going back to the early days of the past century, there are few, if any, who can match the longevity of soccer's Jimmy Spencer as both a superb player and a committed builder of sport.
For almost 40 years – from age 9 in 1924 – he played the game brilliantly, using his mind to take command of the subtleties of the game and his left foot to strike fear in opposing goalkeepers. For an equally impressive 42 years beginning in 1945, he roamed the sidelines as a coach and manager, blew his whistle as a referee and sat at various board tables to administer the game he loved.
He captained North Vancouver High's Vancouver & District bantam champions and played juvenile soccer for North Vancouver Bluebirds, B.C.'s unbeaten third division winners. Still a teenager, he was picked up by three-time Canadian-champion Westminster Royals for the 1933 Dominion playoffs.
But from then on, his loyalty lay with North Shore United and he played for their first division entry from 1933-50, starring for the team's first Dominion champions in 1938 and again when they captured a second national title in 1949. From 1933-48, he was chosen to every B.C. all-star team, playing against touring sides in the 1930s, and was selected B.C. soccer MVP in 1940 and 1942. 
He never retired from soccer. His resume as a coach/manager included overseeing Vancouver all-star squads against United Kingdom touring teams between 1949 and 1953. He took North Shore United to the Dominion final (1954) and his North Shore juvenile teams won provincials (1956 and 1958). He held various positions on the North Shore juvenile soccer executive (1945-76), was a director and president with B.C. juvenile soccer (1962-76), secretary of the Pacific Coast Soccer League and on the BC Soccer Commission. 
Spencer, a life member of the BC Juvenile Soccer Association and BC Fire Chiefs Association, was inducted into the BC Sports Hall of Fame (1973) and Canadian Soccer Hall of Fame (2003) following selection in the North Shore Sports Hall of Fame's inaugural class (1968). 
* Photo supplied North Shore Citizen, Len Corben collection