Artists Elvira Monteforte & Dolores Altin create an insect-inspired form.
You may have noticed some interesting creatures taking shape on the west side of Grand Boulevard between 12th and 13th Streets. North Vancouver Recreation & Culture (NVRC) artists in residence Dolores Altin and Elvira Monteforte have begun creating a number of three-dimensional sculptures using willow harvested from the same block.
Three forms have been built in whimsical, bug-like shapes – a spider, a flying insect and a centipede. Community members have been invited to participate in free workshops to help complete the sculptures by weaving willow and other natural materials into the forms. 
The workshops are taking place May 17 and 18, and 27 and 28. There are sessions for families and for adults, and while there is no cost to participate, registration is required. Visit nvrc.ca/artist-residency for details and to register.
"One of our goals is to make creating art accessible for people. We build the basic structure for the community to complete, then provide guidance," says Elvira. "But we don't plan all the details. We let community members use their imagination, be playful and follow their creativity to modify the sculptures."
Creating environmental art that incorporates natural elements is a common theme in Dolores and Elvira's work. They aim to raise awareness of sustainability by including recycled or upcycled components. They also are driven by a desire to foster a sense of connection to the location of their art pieces, and make art that people can interact with, both in the creation phase and afterwards.
"We love using art to bring people together," notes Dolores. "We hope the workshop participants will feel a sense of unity and connection after working communally on these pieces. We also hope they leave with a feeling of satisfaction having been part of something that will continue to delight and engage the community."
The sculptures will remain in place for the summer for park users to view and interact with. Dolores and Elvira have made a number of willow-based sculptures based on the shape of a half-sphere under the name Hemispheria. This project is the latest in that series, but sees an evolution of the half-sphere with the insect-inspired shapes. 
"The artist residency program has given us an opportunity to expand our original concept and experiment with what we can do with this material," Elvira says.
"We've been able to try out new things and break some boundaries," adds Dolores. "We're getting better at using the willow and these pieces are more artistic."
Image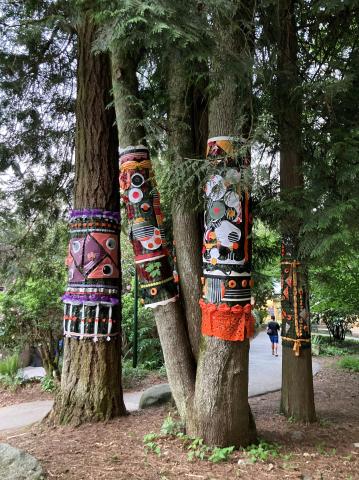 In addition to this project, in January 2023 Dolores and Elvira also worked with community members to wrap trees at Ron Andrews Community Recreation Centre in colourful appliqués using recycled and upcycled materials.
NVRC's artist residency program provides opportunities for artists from diverse disciplines, cultures and backgrounds to discover, create and produce new work or develop existing projects. The program allows artists to work in the community to create arts-based engagement activities and deliver projects that generate meaningful connections. Learn more at nvrc.ca/artist-residency.
About the artists
Multi-media artists Dolores Altin and Elvira Monteforte, also known as Elvis and Lola, have been working together since 2019 to create visual, environmental and experiential art that makes use of natural and recycled materials. They incorporate the concept of placemaking into their work – an approach that focuses on transforming public spaces to strengthen the connection between people and those spaces. They create fun, accessible community-driven art projects with the assistance and contributions of community members of all ages.