North Vancouver Recreation & Culture's Artist Residency program:
Supports arts and culture projects and artistic development in North Vancouver
Provides unique opportunities for emerging and established artists from various disciplines, cultures and life experiences to create and produce new work or develop existing projects
Offers opportunities for artists to work in the community, to develop arts-based engagement activities and to deliver creative projects that generate meaningful connections
Provides financial support and space in a community centre, field house or the Centennial Theatre.
Nathan Lee's Artist in Residency
During Nathan Lee's Artist in Residency with North Vancouver Recreation and Culture, he created a model of The Rookery, along with a step-by-step education guide for the community.
Image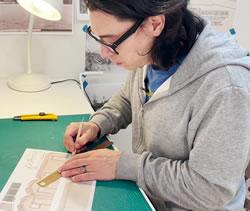 Moodyville Sawmill opened in 1863. The community of Moodyville was an early mill town and one of the first permanent European settlements in North Vancouver. While the population was multicultural, it was far from equal. By 1889 there were 160 men employed at the mill, 36 of whom were of Chinese descent. Produced as part of the Artist in Residency program at North Vancouver Recreation and Culture, this project explores the "Chinese Rookery," an ethnic enclave on the low-lands of the site. Little is known about the lives and working conditions of the people that lived here. This model is an interpretation of the site conditions based on the available archival information.
Build a scale model and discover for yourself what the area may have been like.