Induction Year: 1971
Sport: Gymnastics
Category: Athlete
Biography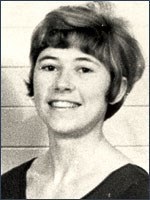 A key member of Delbrook High's gymnastics team which raised the profile of school gymnastics in the province during the early 1960s, Sandra Hartley became the most dominant Canadian university female gymnast during her four years at U.B.C. (1966-70). 
She led the Thunderbirds to four consecutive Western Canadian university team championships, twice as the meet's individual champion; and two Canadian titles (1969 and 1970), both times as the meet's individual champion. In the last one she was on the top of the standings in each of the event's four disciplines: vault, uneven parallel bars, balance beam and floor exercise. In her graduating year, she was the recipient of U.B.C.'s 1970 female athlete of the year trophy, the first time the award was made.
At the same time, she was competing in Pacific Northwest meets, at the B.C. and Canadian championships (1966-70) where she would always be on the podium for her all-around performance, and for Canada in the North American championships (1966-69) and the Cup of the Americas in Mexico (1970). 
The daughter of Gladys Hartley – the highly regarded Flicka Gymnastics coach and builder who had gotten seriously involved in the sport when Sandra joined the club at age14 – she became a world traveller early on, competing for Canada in the World championships in West Germany (1966), World Summer Universiade in Japan (1966), Pan-American Games in Winnipeg (1967), Summer Olympics in Mexico City (1968), World Student Games in Portugal (1969), Pre-World championships in Yugoslavia (1970), and again at the World Summer Universiade in Italy (1970). Canada's best performance in these competitions was the team silver medal at the Pan-Am Games when Sandra placed ninth in the individual all-around standings.
After undergraduate and masters degrees in physical education at UBC, she spent 15 years as women's head gymnastics coach at the University of Alberta (1971-86), obtained her doctorate in education and continued as a professor at UofA until retiring there in 2006.
Sandra was inducted in the second edition of the North Shore Sports Hall of Fame (1971) and in the UBC Sports Hall of Fame (1993).  
* Photo supplied North Shore Citizen, Len Corben collection