Presented by:
Music Gives Philanthropic Foundation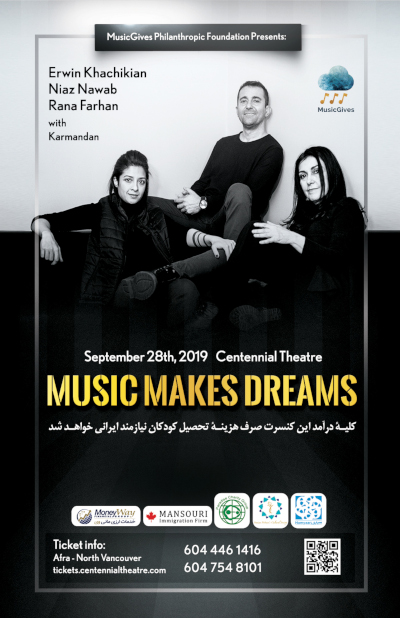 "Music Makes Dreams", a unique night of contemporary Persian Music with the performance of three unique musicians; Erwin Khachikian, Niaz Nawab and Rana Farhan.
"Music Makes Dreams" is  a fundraising event with a dream to help less-fortunate kids to gain access to the education. This is the first concert of a series dedicated to this cause.
All the proceed of this concert will be sent to Iran through Paradise Charity.
اروین خاچیکیان و گروه کارمندان، نیاز نواب و رعنا فرحان در کنسرتی برای حمایت از تحصیل تعدای از کودکان ایرانی محروم از تحصیل.
این کنسرت اولین برنامه از سری برنامه های حمایت از تحصیل کودکان نیازمند ایرانیست. با یاری شما امیدواریم که تا پایان تحصیل این کودکان در کنارشان باشیم.
 باهم، می توانیم رویای این کودکان را تحقق بخشیم.
کلیه درآمد این برنامه ها توسط خیریه پردیس به ایران ارسال خواهد شد. 
For more information contact:
+1-604-446-1416
+1-604-754-8101