Whether you're a total beginner or a seasoned tournament player, North Vancouver Tennis Centre has a full range of adult programs for players year round.  Our programs support people to learn tennis, practice, compete, and meet others and are targeted at 1.0-4.0 levels of play.
Player Development Pathway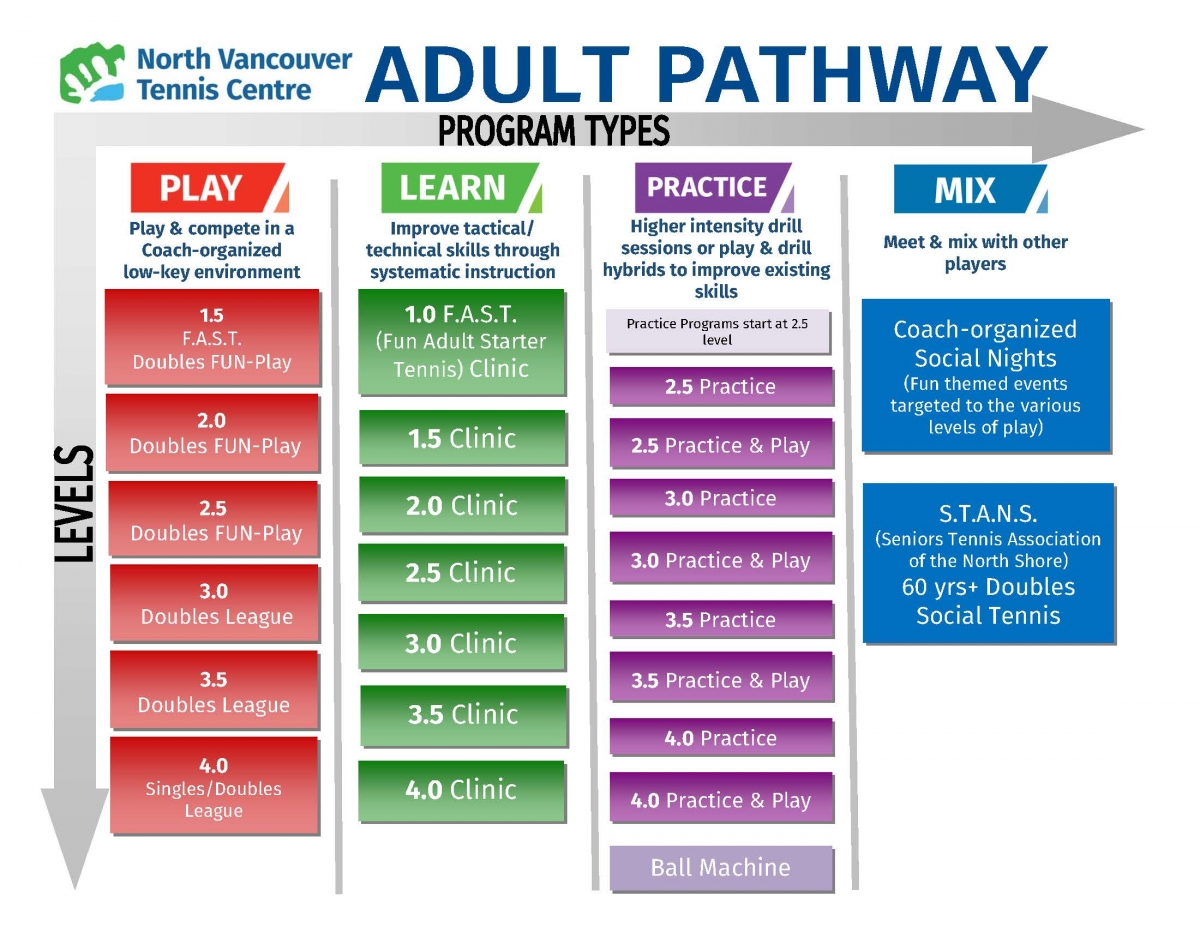 All our programs are based on the Play Tennis Canada Rating Scale. To determine your level of play and the best program for you, please review our Tennis Rating Guide.  If you have additional questions, please call 604-983-6483.
Player Assessments for Levels 2.5 and Above
To be eligible to register for any NVTC program 2.5 Level and above, a player skill assessment is required. These are free, take about 15 minutes to complete, and can be booked by phoning the Tennis Centre (604-983-6483 ext. 2). They are administered by one of our professional coaching staff. These assessments ansure players in our programs have compatible skill levels to practice with each other. Players who register in programs without the appropriate assessment level will be withdrawn. 
Here are the specific evaluations used for the player skill assessment.
Beginner Program Video
Watch the unique way we introduce adult beginners to the game of tennis.
Tennis eNewsletter
Want to hear the latest news, coaches tips and inside scoop? Sign up for our Tennis Newsletter.
Try Our Ball Machine
We have two ball machines available. Simply book the specific courts they are available on and rent the machine ($6.00 on top of the court fee).  Get the machine's remote control and balls from the front desk and enjoy your practice.  Call 604-983-6483 to book a practice court.
Private Tennis Lessons
We have very limited availability for private and semi-private tennis lessons. Please check our registration website for availability. Registration for these lessons opens the Monday of the week prior at 9:00am.